Which Moving Abroad Adventure Will You Have?
Why would an International Removals company want to make Moving Abroad cheaper for you? It seems illogical, does it not, that a company whose business is transporting large amounts of furniture and boxes would recommend that you reduce the amount of furniture and number of boxes before setting out. Well, here at Movers London we don't always do what you would expect from a Removal Services company. In fact, in doing the unexpected – like saving you time and money – we ensure your moving happiness. And customers who are happy with their removal – well, that's just good business. Reducing the amount of furniture that you have and cutting down on the clutter that has filled some of your Moving Boxes is just one of the recommendations that you will find helpful when moving in another country. Even if you do not like making to-do lists and planning far in advance, this is certainly one time that you should make a checklist and try to stick to it as much as possible. A little preparation in the beginning stages of your move can go a long way when you arrive in your new country.

Now, Moving Abroad requires an adventurous spirit, to be sure. You are leaving the familiarity of your home, the comfort of your neighbourhood and community, the relationships with friends and family that are so important to you. But there are good adventures… and there are bad adventures. Here's an example of each, to let you decide for yourself how you would like your international removal to play out. In the first scenario, you have tried to ignore the warnings of those expats who have come before you, and you have not properly prepared for your big step. You have brought all of your beloved furniture with you (paying a premium for so much space in a moving vehicle), and you are just hoping that everything will fit, even though you haven't taken the measurements to make sure. Picture arriving at your new home after traveling for hours – or even days – only to find out that your favourite settee that was a gift from your grandmother cannot fit through your doorway. Heartbreak ensues as your adventure begins on the wrong foot. In the second scenario, you have printed out our helpful checklist, or at the very least have given it a glance, and have been following the advice and staying on top of your tasks. You even began planning for your move two months ahead of time, scheduling an assessment, packing services, Storage, and Removal Services with our company. (You did this by calling 020 8746 4333). When you arrive in your new country, you have not had to worry about any of your belongings and you are sure that you have covered all the details that would have otherwise led to headaches. And that hand-me-down settee from granny? You decided to put it into storage until your cousin can pick it up and take it to his house – so you know that it will stay in the family. You step across the threshold ready for your new life. The neighbours drop by and invite you over and your adventure begins on the right foot, unlike in the first scenario.

Those are just two scenarios of the dozens that could be played out during your International Removal. We recommend selling or donating whatever furniture you don't want to pay to bring with you – or that you cannot bring with you. Considering the measurements of your new home (including doorways) could make a huge difference and save you a lot of money in moving costs. You might also want to think about the layout of your new home. Some large, overstuffed couches won't have much place in a small sitting room. And most of your electronics might need to be donated or sold as well. Remember that the voltage in your new country of residence is most likely different from where you are currently living.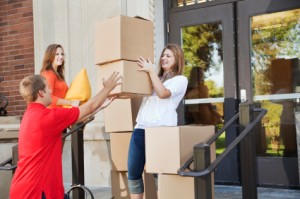 By hiring Movers London when you are Moving Abroad, you will save not only money, but time as well. You will have the time you would have spent going out to buy Packing Materials and Cardboard Boxes; you will have the time you would have spent packing your things; you will have time you would have spent researching customs fees and transportation costs; and you will even have the time you would have spent unpacking upon your arrival. We can help you with all of those things, rewarding you with time, which is a very valuable resource when you are moving to a new country. If there is one thing that many of our customers say they with they had done earlier, it is to hire us to help with all the hard work. They wish they had more time. Think of all you can do with more time before you leave your friends and family. One thing you could do is to visit all your family members and make sure that they have Skype or email so that you can maintain communication with them. Trying to help them with this task once you are already gone could be a fruitless endeavor. You could spend your time throwing a moving party and have your friends divest you of some of the things that you do not want to pay to ship abroad. Or you could spend that time just hanging out with your neighbours who may remain friends, but will no longer be just across the fence.

So now that you've saved some money by hiring one of the most affordable Removal Services Companies around, you can look into purchasing some expat health insurance. Your current coverage may extend to the country you are moving to, but it is hard to know for sure and it may only cover certain things.

Want more helpful hints about Moving Abroad? Interested in more ways to save time and energy? Check out the rest of our website and call us today on 020 8746 4333.